CharityComms Digital Benchmark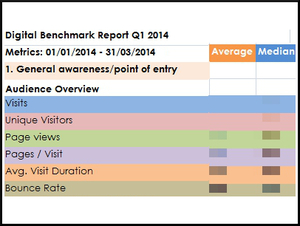 CharityComms' Digital Benchmark is a syndicate of over 40 charities pooling their digital data to benchmark their digital performance in communications, campaigns and fundraising.
This is a unique collaboration aimed at improving the performance of participating charities.
What is the Digital Benchmark for?
The Benchmark has two main objectives:
To allow individual charities to compare the metrics, facts and figures of their own digital activities with peer charities in the UK
To provide insights and ideas into how charities can develop their digital communications and fundraising work in the UK.
Who is the Digital Benchmark for?
The three main intended audiences for the Benchmark are:
● Senior management teams, both as part of an established reporting function and as justification for activity/investment
● Digital teams, to show how performance compares to other charities
● Other teams within the organisation, to show what is and isn't working and to act as both stick and carrot for wider organisational digital participation
How does it work?
CharityComms has worked with the Benchmark participants to create a set of metrics within six categories that are meaningful, comparable and easy to measure. The categories are:
General awareness/point of entry
Acquisition
Retention
Information provision
Services
Engagement
Most of the data is gathered automatically via a Google Analytics profile which participating charities set up and share with CharityComms (a very straightforward process). This is supplemented by an annual manual survey of participants looking at social media data, resource etc.
What are the outputs from the Benchmark?
Participants receive quarterly 'snap-shot' reports of the data from Google Analytics, comparing their own performance to the average, range and median data from all participants. This is produced by non-profit digital consultant Bertie Bosrédon, and presented both as a spreadsheet and a PowerPoint presentation. The quarterly reports include analysis of the data and comments on trends and changes it reveals. Participants also receive an annual 'white paper' report with more in-depth data analysis, including results from the manual survey. Participants are also invited to at least one free annual meeting/seminar to discuss the data and development of the Benchmark.
Who can join the Benchmark?
The CharityComms Digital Benchmark is aimed primarily at charities with a voluntary income of over £5m. Participation is £400+ vat for CharityComms organisational members, £1,000+vat for non-members. New participants can join on a quarterly basis.
Participating charities
ActionAid, Action for Blind People, Action for Children, Age UK, Alzheimer's Society, Anthony Nolan, Arthritis Care, Arthritis Research UK, Barnardo's, BHF, Breast Cancer Now, Children's Society, Concern Worldwide, Dementia UK, Dogs Trust, Guide Dogs, Independent Age, Kidney Research UK, Leonard Cheshire Disability, Marie Curie, Mencap, MS Society, National Autistic Society, National Deaf Children's Society, NSPCC, Parkinson's UK, Practical Action, RNIB, RSPCA, Samaritans, Scope, Scout Association, Shelter, Sightsavers, Sue Ryder, Sustrans, Teach First, vInspired, World Animal Protection, WWF and Youth Music
What the participants say
"The CharityComms Digital Benchmark enables us to measure trends in our performance against peers, and identify whether the market as a whole is being affected by external conditions, or whether a trend is unique to us, therefore helping us to see where we're going wrong, or right. Being able to improve poor performance or further boost positive results helps us to make the most of our resources and ensure we're getting the best value possible from our digital channels, and where relevant, providing the best service we can to our supporters and stakeholders".
Sally O'Connell, head of digital, ActionAid
How to join the Benchmark
If you'd like to be part of the Benchmark, or want more information on how it works, please email duncan@charitycomms.org.uk
Who can access participants' data?
Information from the Benchmark is intended to be used internally by participating charities only and is not shared with other organisations outside the Benchmark group. CharityComms may share certain trends and top-level statistics drawn from data analysis with an audience wider than the participating charities, with a view to increasing future participation in the Benchmark and/or sharing knowledge within the sector, according to our charitable purpose. However, we will not publish any information relating to the Benchmark pertaining to individual participating charities without prior written consent from the charities. The data collected from individual charities via the Benchmark remains the property of the individual charities. All survey answers and data is treated in strictest confidence.